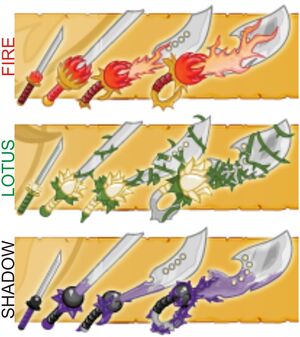 Clan Sword is an evolving sword, it was a Ninja Warz Anniversary Weapon bonus which is not available for new players. The names of the Clan Swords:
Fire Blade for Fire Clan
Lotus Blade for Lotus Clan
Shadow Blade for Shadow Clan
Although the Clan Sword's sell value is 10 Karma, the Clan Sword cannot be sold. Any attempt to sell the Clan Sword in the Weapon Shop will bring out a dialog box saying, "You can't sell this weapon! It's spiritually important to your whole clan!"
In addition to the three swords mentioned above, upon
Enlightenment
, your clan will receive an Enlightened blade. This blade does 
not
replace your original clan blade, however, and will level and evolve like the other clan swords.
Clan Sword Evolution Table

| | Evolution | DPS | Speed |
| --- | --- | --- | --- |
| 2 | 1 | 3.00 | Normal |
| 3-5 | 1 | 7.00 | Normal |
| 6-10 | 2 | 9.00 | Normal |
| 11-15 | 2 | 12.00 | Normal |
| 16-20 | 3 | 15.00 | Normal |
| 21-25 | 3 | 19.00 | Normal |
| 26-30 | 4 | 23.50 | Fast |
| 31-35 | 4 | 29.00 | Fast |
| 36-40 | 4 | 31.00 | Fast |
| 41-45 | 4 | 36.00 | Fast |
| 51 | 4 | 42.00 | Fast |
| 56 | 4 | 43.50 | Faster |
| 61 | 4 | 45.00 | Faster |